Goldsmith Kulmala's story starts off in 2005 in Ullanlinna, Helsinki. However, the roots go decades back to Käkelä village in Tavastia region. Prior engineer officer of a felt boot factory, Mr. Kulmala, spent his golden days with the curious and apt learner grandson, Pekka.
Easygoing but active days in Käkelä consisted typically of small building or fixing projects, crafting and carving – unless the attension was caught in some wonders and treasures of nature, found in the surrounding grounds. To little Pekka, they were almost as fascinating as the secrets of the globe such as volcanos, glaciers, smaragds and topaz, revealed by the old Atlas in the bookshelf.
When time came to decide future occupacional paths, Pekka understood that the goldsmith training in Lahti Design Institute was the one to take. Occupaction of a goldsmith would combine all his passions and also honour the memory of grandfather.
Now Pekka Kulmala is an esteemed master goldsmith. Jewellery created under the Goldsmith Kulmala brand are uncompromized pieces of craftsmanship, where classic features are united with modern design.
"Each project is as large as a small jewel can be."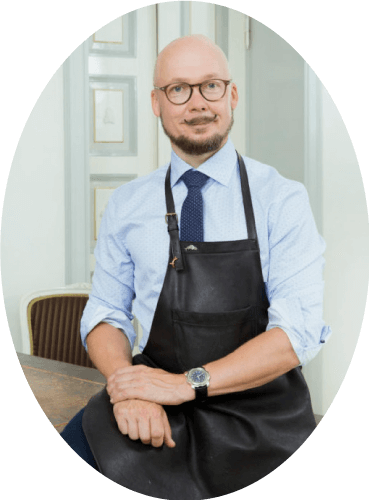 Master Goldsmith Pekka Kulmala
Pekka has always found inspiration in nature. Already as a little boy, his pockets were filled with stones found in the nearby surroundings, beaches and roadsides and his thoughts often escaped to freedom and outdoors. Now he unwinds on a private island together with his family. Nature and its' annual cycle provide continuous subjects to marvel at. Birdwatching, sport fishing and identifying of trees and rocks together with daughters, efficiently takes the mind off everyday life.
Valueing and respecting nature is something Pekka wants to pass on to next generations. Nature is present in Kulmala's jewellery as the proportionate harmony of measurements, as well as in the themes of the jewellery.
Pekka Kulmala was awarded the title of master goldsmith in 2010. The Finnish goldsmiths' association chose Pekka Kulmala as goldsmith of the year in 2011.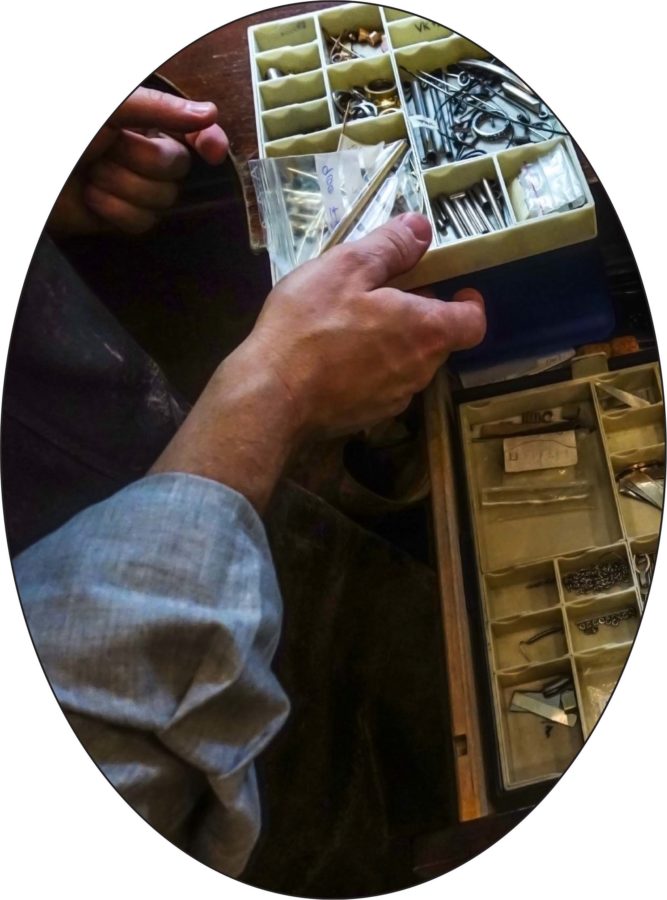 Goldsmiths
In our workshop we have three workbenches for goldsmiths. Finnish goldsmithing has a long and illustrious tradition, which is respectfully maintained by Kulmala's goldsmiths. All of Kultaseppä Kulmala's unique jewellery is made by hand in Finland, created by precise atelier craftsmanship.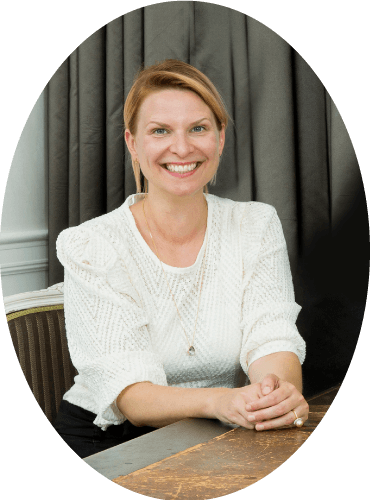 Jaana Junkkaala
The goldsmith industry has been a part of Jaana Junkkaala's life for twenty years. Jaana is a qualified jewellery designer, and every time she enters the workshop she is fascinated by the skill of the goldsmiths and the array of unique jewellery that we have the honour of designing and painstakingly creating for our customers.
The enchantment of gemstones, the stories of the jewellery and top-quality handicrafts passed down from one generation to the next are reflected in Jaana's pictures and words, as she is responsible for Kultaseppä Kulmala's marketing and visual presentation. For Jaana, Kulmala is the perfect place to witness the work of goldsmiths and to follow the domestic excellence and expertise a respected master goldsmith and his talented team offer.
When it comes to customer service, Jaana considers it highly important to have genuine encounters with customers and the desire to make just the right, personalised high-quality jewellery for them. Jaana can be found at Kulmala, greeting customers with a smile at the computer amidst a wealth of gems, decorations and Post-it notes.